KEMP'S LANDING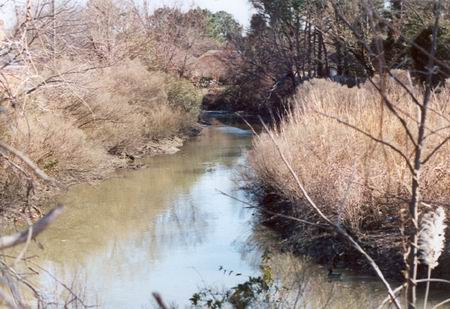 These photographs were taken at the end of the Eastern Branch of the Elizabeth River, where the river meets Princess Anne Road. This is part of an area I've been searching in an attempt to find the site of the historic docks at Kemp's Landing. Although I'm still searching, the following response came to me from June Cooper, a member of the Princess Anne County Historical Society. I need to send them a donation for all of her helpfulness!
I received some information from an Archaeological Society of Virginia (ASV) member who, with others, had walked and canoed and investigated the area for signs of the old Kempsville landing and to trace the track of the never finished Kempsville/Lynnhaven Canal.
He writes, " I doubt he will be able to see where the pilings were. That area (my estimate) was robbed out -now a borrow pit lake - when Rt 44 (I264) was built. The dam for that lake is about where the lift lock for the Kempsville Canal would have been (it is not known if the lock was ever built but some think it was and was allowed to deteriorate away before the borrow pit work and subsequent dam destroyed all evidence.) The canal left Eastern Branch there and was partially dug (to Euclid Ave) almost to where Va. beach Boulevard is before the effort was abandoned just prior to the Civil War. It was planned to go into Thurston Branch of Lynhaven River.
There is evidence of old docks/pilings all along Eastern Branch further down -behind the school near Caroline Farms - and all around that area where there was a lot of early brick work and other suspected manufacturing or mill work going on."